In Memory
Mike Anderson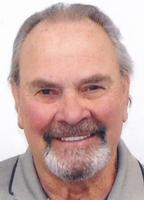 Mike Anderson gave up his fight with cancer on 07/27/2022. He was 78 years old.
He was born August 11, 1943, to Dale & Norma Anderson, in Ogden, Utah. While in Ogden, he developed many childhood friendships which he had until the day he died.
Mike served 3 years in the Army, where he was stationed in Orleans, France. This is where he played Semi Pro baseball. He was able to travel to other American military camps and play the game he loved.
Mike also liked to play golf. Until recent years you could always find Mike on the golf course. His recent pastime has been car shows. Mike could talk for hours about cars. He became heavily involved with the car community and soon became President of Wasatch Chevy Car Club. He made many wonderful friends and cherished their friendships throughout the years.
Mike is survived by his wife Krista, daughter Erica Beecher (Tony), 2 grandchildren, Anderson and Lillian, and his ex-wife and friend Nannette Anderson.
Mike was preceded in death by his parents and his sister Carolynn York.
https://www.legacy.com/us/obituaries/saltlaketribune/name/micheal-anderson-obituary?id=36055294