In Memory
Brent Buchanan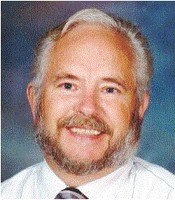 James Brent Buchanan
17 Nov 1942 - 25 May 2017
James Brent Buchanan returned to his heavenly father on Thursday, May 25, 2017, at the age of 74, with his soul mate, Susan Buchanan, by his side.
Born in Richfield, Utah, to Ray and Alice Buchanan along with his siblings, Sharon and Toni, but lived most of his life in the Ogden area working at Bonneville High School and the Sleepy Bear Travelodge. He was known for his great love of teaching and loved his students - but his children knew him best camping deep in the Uinta mountains, fishing, skiing, or loving his dogs. Married Crys Brewster in 1966, remarried to Susan Connell in 1989 and sealed in 1990.
Brent is survived by his seven children: Lisa, Patrick, Brady, Joshua, Melissa, Ted and Tami Jo; as well as 13 grandchildren and seven great-grandchildren. A memorial will be held on Saturday, June 3, 2017, from 11 to 3 p.m. at the Porterville Chapel at 2700 South Morgan Valley Drive, Morgan, Utah.