In Memory
Aloma Byington (Blaylock)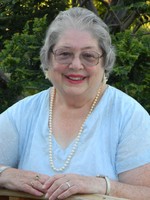 Aloma Blaylock

North Ogden - Aloma Byington Blaylock, our cherished wife, mother and grandmother, passed away October 28, 2013 of complications from heart surgery. She was born May 16, 1943 in Heyburn, Idaho to Floyd W. and Gwendola Owens Byington. She was raised in Ogden and attended schools there, graduating from Ogden High School, class of 61; she also attended Weber College. Aloma married Richard A. Blaylock on August 9, 1962 in the Logan LDS Temple.

She was a member of the North Ogden 7th Ward. She served in many callings in Primary, Relief Society and has served in the library for the past 15 years. Aloma found great satisfaction in volunteer service which included both the Boy Scouts and Girl Scouts, being active in the PTA, 4H, Ogden Regional Medical Center, serving as a reading aide and being a member of Daughters of the Utah Pioneers.

She enjoyed the outdoors, plants, flowers and gardens; she graduated as a Master Gardener from the USU extension service. She also did tatting, crocheting and knitting; she was always working with her hands. She worked at Dee Hospital, Frybrandt Clothing and Weber County Schools.

Aloma is survived by her husband of 51 years, Richard; 2 sons and 1 daughter, William (Valerie) of West Valley City, John (Heidi) of Sunset and Kimberly (James) Clarke of Washington Terrace; 2 grandchildren, Tyler and Monika Clarke and her siblings, Darla Byington, Floyd Byington, Arvin Byington and Carlyle Byington. She was preceded in death by a sister, Leonean Byington.

Funeral services will be held at 11 a.m. on Friday, November 1, 2013 at Myers Ogden Mortuary, 845 Washington Blvd. A viewing will be held on Thursday, October 31, 2013 from 6 to 8 p.m. and Friday prior to the service from 9:40 to 10:40 a.m. Interment, Ben Lomond Cemetery.