In Memory
Bruce Davis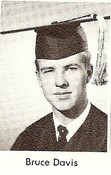 Bruce L. Davis
15 Dec 1942 - 25 Jun 1975
CORINNE - Bruce Lynn Davis, 32, of Corinne, formerly of Ogden, died Wednesday at the Cooley Hospital in Brigham City.
He was born Dec. 15, 1942, in Brigham City, a son of Dan Ferry and Ida Marie Christensen Davis.
He was married to Patricia Hill. They were later divorced. He was married to Lynda Fronk. They were divorced. He was married to Terry Volpl.
He was a baker and formerly worked at Smith Food King Bakery and Wangsgard Bakery in Ogden.
He lived in Ogden most of his life, moving to Corinne a year ago, and was a graduate of Ogden High School.
He was a member of the LDS Church.
Surviving are his widow of Corinne; one son, Bradley Davis, Olympia, Wash., his father of Brigham City; his mother and stepfather , Mr. and Mrs. Ralph L. Stokes, Ogden; two brothers, Eugene W. Davis, Dennis C. Davis, both of Ogden.
Graveside services were held Saturday at Washington Heights Memorial Park in South Ogden.
Lindquist and Sons Mortuary handled the funeral arrangements.
There is a Social Security Death Index Record for Bruce Davis, Born: 15 Dec 1942; Died: Jun 1975.