In Memory
Dell Drake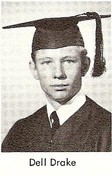 Obit for Dell Drake created by Garth
Dell "Corkey" Drake
Dell Robert Drake (28 Mar 1943 - 28 Oct 1997)
Dell was born on March 28, 1942, a son of Wilbert A. Drake and Mary Phillips Drake.
He was born and raised in Ogden, UT and graduated from Ogden High School in 1961.
He was known as "Corkey" to all of his friends.
Dell and his wife, Claudia had four children, two boys (Steven and Gregory) and two daughters (Barbara and Karen).
Dell worked at Hill AFB as a utility system operator.
He enjoys hunting, fishing, and camping with his family.
Dell was survived by his wife, children and brothers, Don Wayne Drake, Wilbert P. Drake and Lyle Drake; and one sister, Mary Linda (Drake) Clompton.