In Memory
Stephen Ellertson
Stephen M. Ellertson, 73, died Friday October 28, 2016, at home.
He was born January 5, 1943, in Ogden Utah, the son of Marlow D. and Velma D. Ellertson.
Following graduation from Ogden High School in 1961, he completed a 2 year mission for the Church of Jesus Christ of Latter Day Saints in Berlin, Germany. He graduated from Weber State University with a degree in mathematics and completed advanced education and degrees from the Universities of Utah and Colorado and received a Master Degree with highest honors in Computer Science from the Naval Postgraduate School.
On August 12, 1988, he married Levin Bell Williams of Memphis Tennessee. They have two daughters, Elizabeth and Trisha, 5 grandchildren, and one great grandchild.
A career Airman, he was commissioned a 2nd Lieutenant in the United States Air Force in 1967. He served with distinction for over 30 years and retired as a Colonel in 1997. He served in Viet Nam and participated in Desert Shield/Storm. His postings included: Washington D.C., California, Colorado, Florida, Mississippi, Tennessee, and Alabama. His awards and decorations included: The Defense Superior Service Medal, Legion of Medal, Joint Service Commendation Medal, and the Air Force Commendation Medal, Joint Service Achievement Medal, and the Airforce Achievement Medal. He also has campaign and service medals from Viet Nam and Southwest Asia.
Following military retirement, he worked as a program and district manager for defense contractors including TecMasters, RS Information Systems, and Wyle Consultants. He completed his career in 2015, as a senior government official assigned as the Director of Technology at the LeMay Center Wargaming Institute, Maxwell Air Force Base, Montgomery, Alabama. His total dedicated service to the United States Spanned over 48 years.
Col Ellertson spent his retirement years with his wife of 28 years traveling, enjoying his grandchildren, and playing golf at every chance.
He is preceded in death by his parents of Ogden, Utah. Surviving are his wife, his sister, Judith Wilson (Blaine), two daughters, Elizabeth Howard (Tim), Memphis, TN and Trisha Kidd (Trevor), Kalamazoo, MI. He has five grandchildren: Matthew, Sarah, Zachery, Brayden, Avery, and one great grandchild: Hampton.
Services will be at Southern Heritage Funeral Home on Thursday, November 3rd, 2016 at 1:45pm with burial at Alabama National Cemetery.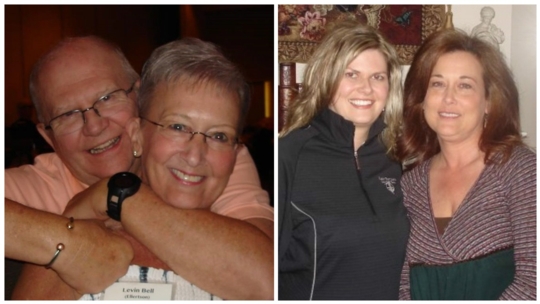 Photo on left is Steve and his wife Levin. Photo on right are their daughter, Trisha and Elizabeth.