In Memory
Richard Evans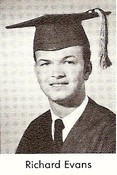 John Richards Evans
John Richard Evans
7/17/1943 ~ 9/6/2012
JOHN RICHARD EVANS, the one-of-a-kind light in our lives has gone to light up a whole new room and dimension. People that have long missed his vibrant, infectious spirit are enjoying him once again. Richard started his new role on Thursday September 6, 2012
Richard first graced this earth on July 17, 1943 arriving in Idaho Falls, Idaho. Soon after that he made his mark on Ogden Utah growing up there and graduating from Ogden High School. While at Ogden High School he met, then later married his high school sweetheart Jelaire "Jill" Sparrow. Together they continued their education at Weber State College and started a family and an amazing legacy in Murray, Utah. Richard and Jill were a couple that couldn't be stopped until his sweetheart succumbed to cancer 1986. Richard was always a person who could attract the best people around him and that proved to be true once again when he met a woman who loved him unconditionally and recognized a truly special man. Richard married Janice Dunoskovic who supported him on every level and stood by his side right to his last moment on earth.
Murray, Utah would never be the same after his arrival. Richard's impact on his community was an unmatched example of giving back. As a true entrepreneurial risk-taker, Richard left his teaching profession to start two Murray staple businesses, New Concept Furniture and Take Five Drive In. Even while taking on the task of two thriving businesses, he always found time to serve. Richard was an irreplaceable member of the Murray
Rotary Club
where he served a term as president and enjoyed the projects accomplished with his good friends. Service Above Self was not only a Rotary Club monicker but a life he lived. His service was also evident with many LDS church callings, as well as appointments to boards and commissions by multiple Murray Mayors.
As a family man Richard also shined like no other. Starting out as a big brother to his sister, Kathy Everts, and his brother David (Nancy) Evans , also a wonderful husband who adores his wife (Janice) and an amazing father to Jeff, Stephanie (Tony Spiers) and Andy. Later, the ultimate grandfather was always there for his magnificent seven Nathan, Hailey, Sean, Cameron, Sarah, Jelaire and Isabelle. In addition, family man was always extended to those that came into his life because he made them feel that way.
Services to celebrate our dear man will start Monday September 10th with a viewing at the Jenkins-Soffe Funeral Chapel, 4760 South State Street, Murray, Utah from 5pm until 8pm, and also Tuesday 10:30-11:30 a.m. at the church. Funeral services will be held on Tuesday September 11th, 12 noon, at the Murray Utah South Stake Center, 5735 South Fashion Blvd., Murray, Utah. Richard will be laid to rest next to his high school sweetheart at the Murray City Cemetery.
The family wishes to express thanks for all the love and support shown for us and the man we will greatly miss. In lieu of flowers put $20 on Utah over BYU.