In Memory
Georgia Haigh (Guerrero)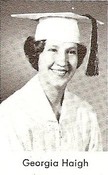 Obit created by Garth:
Georgia Haigh (Guerrero)
28 Jun 1943 - 30 Mar 1999.
Georgia was born on June 28, 1943 to George Haigh and Delma Ruth Hartman Haigh. She grew up in Ogden, UT and graduated from Ogden High School in 1961.
In 1962 she joined the WAVs and attended and graduated from the U.S. Naval Training Center at Bainbridge, Md. and planned to have a medical career in the service. She then continued her training at the Naval Hospital Training school in Great-Lakes, HI.
In 1981 Georgia lived in Mission Hills,CA and had a 14-year-old son, Sean. She had been divorced twice and was a nurse.
Georgia died on March 30, 1999. She was survived by her mother, son, Sean and brothers, Leroy (Shirley) Haigh of Twin Falls, Idaho; Greg (Debbie) Haigh, of Brigham City and Clark (Susan) Rukavins of Ogden.
She was preceded in death by her father, George Haigh; step-father, Nicholas Rukavina and sisters, Myrna Shannon Haigh and Edith Myrleen Haigh .