In Memory
Raymond Hill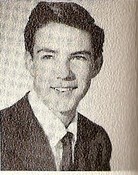 Obit for Raymond Hill created by Garth -
Raymond Hill
Raymond Douglas Hill (21 Jun 1943 - 26 Aug 1996)
Raymond was born on the 21 of June in 1943 to Edmund Carlysle Hill and Beatrice Carver Hill. He grew up in Ogden, Utah and graduated from Ogden High and LDS Seminary School in 1961. Ray also attended Weber College.
On the 28th of March in 1962 Ray married Jean Olsen a Ben Lomond High School and Superior Beauty School graduate. Ray and Jean went on to have three children together - Kevin, Jodi (or Judi) and Keith.
Ray later graduated from the America Institute of Banking and, in 1980, from the Norman Oklahoma Consumer Credit School. He was vice-president of Family Bank.
His interests were farming and raising registered quarter horses, his family, boating and banking. In 1981 he enjoyed working with Nancy (Scowcroft) Thon in organizing and planning class reunions for the OHS Class of '61.
In 1991 Ray reported that his funnest experiences were his trip to Hawaii and the many hours spent at Bear Lake and Pine View with family water skiing, and horse racing which had crept into thier weekends (literally crept as they have not had the pleasure of owning a major winner yet.) Several hunting trips throughout Idaho, Wyoming and Montana just top the list when it comes to just being with "the boys".
Ray and Jean raised their family on their farm in Eden. Ray died on the 26th of August in 1996 from injuries he suffered while trimming trees in his yard.
Ray is buried in the Mountain View Cemetery in Eden, UT.