In Memory
Jan Johnson (Luckey)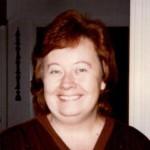 Janice Janell Luckey
May 17, 1943 - September 17, 2014
Janice Janell Johnson Luckey was born to Leo and Alice Johnson, May 17, 1943. She passed away peacefully September 17, 2014. Janice lived her entire life in Ogden; graduating from Ogden High School in 1962. Following high school Janice went on to receive a License in Cosmetology and later a Certificate in Gerontology. She was married to Harold Luckey that ended in divorce.
Janice is preceded in death by both parents. She is survived by one brother Terrence (Paulette) Johnson; two sisters, Renae (Bob) Maccarthy, Denise (Paul) Packer; and numerous nieces and nephews on whom she doted.
The family would like to thanks the Washington Terrace Care Center for their care.
Graveside Services will be held Saturday, October 4, 2014 at 2 p.m. at Leavitt's Aultorest Memorial Park, 836-36th Street, Ogden, UT.
Please send condolences to the family at: www.leavittsmortuary.com