In Memory
Wayne Kimball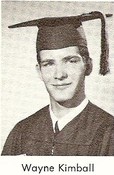 Waylne E. Kimball
Wayne E. Kimball
25 JUL 1943 - 3 MAY 1969
Wayne Edward Kimball, 25, of 2904 Childs, was killed in an automobile-train accident in Roy early today.
Mr. Kimball was born July 25, 1943, in Logan, a son of Edward L. and Mildred Barker Kimball.
He was married to Cindy Mag??l on Sept. 3, 1965, in Brigham City. They were later divorced.
He had lived in Ogden most of his life and had been employed as a warehouseman at Hill Air Force Base.
He was a priest in the 12th LDS Ward and had attended Ogden High School.
Surviving are one son, John William Kimball, Ogden; his parents of Ogden, a grandmother, Mrs. Ada Kimball, Logan; one sister, Mrs. Robert (Dorothy) Jones, Washington Terrace.
Funeral services were held in Lindquist and Sons Colonial Chapel with Bishop Harry P. Nasfell of the 11th Ward officiating.
Burial was in the Memorial Gardens of the Wasatch.