In Memory
Judy Lambert (Hastings)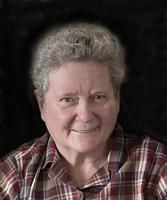 On the morning of June 7, 2021, Judy Lambert Hastings passed away peacefully surrounded by her loving family after suffering the effects of a stroke. She had recently moved to Boise, ID, to be near family after living in Idaho Falls for over 50 years.

Judy was born in Ogden, UT, on June 12, 1943, to James and Edith Lambert. She was the second of three daughters. She graduated from Ogden High School in 1961. Judy began her higher education at Utah State, and completed a bachelor's degree in accounting from Weber State University in 1971. She accepted a position with the U.S. Department of Energy working in contract cost and price analysis where she worked until her retirement in 2003 after 32 years.

Judy married Mike Shaw in 1963 and they later divorced. In 1973, she married Kent Hastings, and they were married for 48 years. They are the parents of son, Jon Riley, and daughter, Jennifer Jane.

Judy was an active member of The Church of Jesus Christ of Latter-day Saints. She enjoyed many callings, but one of her favorites was serving as the Stake Young Women's Camp Director for nine years at Darby Girls Camp in the Teton Valley. Judy loved everything about the outdoors including camping, boating, hiking, and skiing.

Judy's life was dedicated to serving those around her and showing her love to those in her life. Her never ending desire to help people made her into the selfless and kind mother, wife, grandma, and friend she was known to be. Her time was devoted to bringing more fun and joy into the lives of those around her. It is rare to find a person with as much hope and love in their heart as Judy.

Judy is survived by her husband, Kent; her son, Jon (Peggy) Hastings; and her daughter, Jennifer (Eric) Shurbet. She is also survived by five adoring grandchildren, Kayley, Tyler, Lindsey, Megan, Elyse; and by two sisters, Carolyn (Steve) Porter and Suzanne Lambert. She was preceded in death by her parents and grandparents.

A graveside service will be held at Fielding Memorial Park Cemetery in Idaho Falls, ID, on Saturday, June 12, 2021, at 11 a.m., Judy's birthday. Services are under the direction of Wood Funeral Home. In lieu of flowers, donations may be made to the "Support Yellowstone Forever" charity.