In Memory
Gary Lundstedt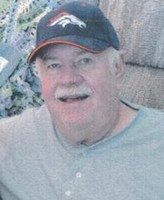 Gary Earl Lundstedt
(May 3, 1943 - October 13, 2015)
Gary Earl Lundstedt, 72 slipped his earthly bonds on October 13, 2015 after a very long battle with Diabetes.
Gary was born to Jacqueline Kinder Lundstedt an Earl Donald Lundstedt on May 3, 1943 in Salt Lake City, UT.
He married Karen Myers and together they had three wonderful children, Lewis John Lundstedt, Scott Earl Lundstedt and Kathy Ann Lundstedt. He is also survived by a brother, Brent Lundstedt, three grandchildren and two great grandchildren. Gary retired from the Defense Depot Ogden as a warehouseman/supervisor.
He was an avid golfer and enjoyed traveling to play on many golf courses. His home course was Ben Lomond where he enjoyed many hours in the company of his golf buddies.
At Gary's request there will be a celebration of life at a later date. Many heartfelt thanks to Bonnie, Ken, and Dr. Riggs from Legacy Health and Hospice for their many hours of care and support.
In lieu of flowers the family requests donations in his memory to the American Diabetes Association or the Primary Children's Hospital. Cremation provided by Premier Funeral Services.