In Memory
Dennis Nelson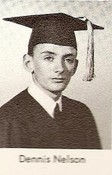 Dennis D Nelson
Born in 1943, Dennis Nelson passed away June 25, 2013 from cancer. He was living in Texas.
He was the son of David Blaine and Lenora (Miller) Nelson.
He was preceded in death by his parents and his brother Darrell Nelson.
He is survived by his sisters Kay Hollander of Boston and Jean Siemens of South Jordan.
His cremated remains were interred at the National Cemetery in Dallas/Fort Worth.
Dennis was a veteran and served in the Air Force in Vietnam.
Burial arrangements were handled by Dalton and Sons in Louisville Texas.