In Memory
Brent Nickerson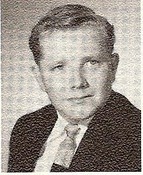 Roy B. Nickerson
30 Dec 1942 - 18 Jan 1959
Roy Brent Nickerson, 16-year-old son of Charles Roy and Bell Webb Nickerson, of 2847 Fowler, died yesterday of an accidental gunshot wound.
He was born Dec. 30, 1942, in Ogden. He had lived in Ogden his entire life. He was a student at Ogden High School where he was a member of the ROTC, Drama Guild and the Forum Club.
Active in the LDS Church, he was a priest in the Seventeenth Ward and a member of the Boy Scouts Explorers, Post 27.
Surviving are his parents, a brother, Charles W. (Bud) Nickerson, serving an LDS mission in Australia; a sister, Sue Nickerson, Ogden; two grandmothers, Mrs. Mary A. Nickerson, Oxnard, Calif., and Mrs. Florence B. Webb, Ogden.
Funeral services were conducted in the Seventeenth Ward Chapel by Bishop Glen Thomas.
Lindquist and Sons Mortuary handled the funeral arrangements.