In Memory
Inocencio Oliveras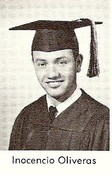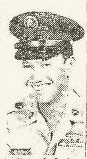 Inocenio Oliveras
Inocencio Oliveras
4 Jul 1942 - ? Dec 1975 (Friday before 20 Dec 1975)
Inocencio (Jim) Oliveras, 33, of 2230 Harrison died Friday of injuries suffered in an automobile accident near Coalville.
He was born July 4, 1942 in Ar?????, Puerto Rico, a son of Epifanio and Juans Mendez Oliveras.
He married Gloria Chavez.
He had lived in Ogden for the past 20 years. He had been a counselor at the Utah State Industrial School. He was a member of Jehovah's Witnesses. He served with the U. S. Army in the Vietnam War from 1967 to 1969.
Surviving are his widow of Ogden; one son and five daughters, Mark A. Oliveras, Bountiful, Luana Oliveras and Naomi Oliveras, both of Chicago; Patty Oliveras, Alice Oliveras and Marie Oliveras, all of Ogden; his father of Puerto Rico; his mother of Ogden; on brother and one sister, Jorge J. Oliveras and Mrs. Juanita Poole, both of Ogden.
Funeral services were held at the Larkin Chapel of the Dawn with Ministerial Servant Paul Diaz Jr. of the Jehovah's Witnesses officiating.
Burial in the veterans plot in the Ogden City Cemetery.