In Memory
Frank Philpott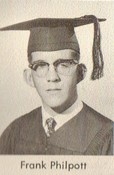 Frank W. Philpott
Frank W. Philpott
16 Jul 1943 - ? Jun 1974 (Saturday before Jun 18, 1974)
MESA, Ariz. - Frank W. Phikpott, 30, drowned Saturday afternoon while swimming.
He was born in Ogden on July 16, 1943, a son of the late Ralph Walter and Mertice Philpott.
He was married to Tamara Pinder on Nov. 12, 1964, in the Salt Lake LDS Temple.
He graduated from Ogden High School and also attended Weber State College.
He served in the Army Reserves and worked as and Insurance agent. He was a member of the LDS Church and served as an elder in the Ogden 20th Ward here in Ogden.
Surviving him are his wife, a daughter, Jeal Ann, both of Mesa, Ariz.; a brother, Ralph Philpott, Ogden, and his mother.
Funeral services were held at Gibbons Mortuary in Mesa, Ariz.
Interment will be in Mesa Ariz.