In Memory
Larry Smith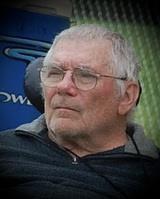 Larry Smith

1942-2021

Salt Lake City, UT—Larry Smith, beloved husband, brother, brother-in-law, uncle and archery coach, died Sunday, April 25, with Randi, his wife of nearly 40 years, by his side.

Larry was an active and valued member of Utah's archery community, operating Salt Lake Archery in Sugar House since he and Randi opened its doors in 1984. He was a long-time coach for scout troops, junior Olympians and para archers, and also competed himself. His scores in the 1992 National Wheelchair Games still stand as records.

Larry suffered a fall at Waterfall Canyon near Ogden at age 16 that left him a quadriplegic, but did not injure his will, strength and resilience to continue with a full and meaningful life. He graduated from Weber State College and devoted several years fighting for accessible transportation for the disabled — a service he actually used in more recent years, when he decided he could no longer drive his modified van. He sat for several years on the Utah Developmental Disabilities Council and was honored in 1983 with the Maurice Warshaw Service Award from the Governor's Committee on Employment of the Handicapped.

After marrying Randi in 1982, the couple opened Salt Lake Archery where they could train members of their newly formed "Utah Hot Shots," a Junior Olympic Archery Development team that has sent several individuals to national and international competitions and is still going strong. They also coached and trained with many Olympic and Paralympic archers. As a Level 4 certified coach, Larry introduced archery to thousands of young people through lessons and scout troop activities at the archery range, and was a strong supporter of the Utah Summer Games, Utah Winter Games and the USA Paralympic archery team. He was inducted, with Randi, into the Utah Archery Hall of Fame in 2019.

He was a kind and gentle soul who accepted everyone for who they are and felt everyone had value, which seemed to guide even non-archery individuals into the archery range for acceptance they might not find elsewhere.

Larry was born in Ogden on March 27, 1942, to the late Lorin W. and Beatrice Bush Smith. He is survived by siblings Pamela Peterson, Ogden: Fred W. Smith, Ogden; Bernetta "Bunnie" Nielsen, Bremerton, WA; and Curtis J. (Joyce) Smith, Woodland, WA. Other survivors include Randi's siblings, who loved him as one of their own: Laurel and Douglas Siddoway, Spokane, WA; Terry and Nancy Hobbs Orme, Sandy; Lincoln and Karin Hobbs, Salt Lake City. He also is survived by numerous nephews and nieces.

Due to COVID-19, no services are scheduled at this time. A private memorial will be held this summer. In lieu of flowers, consider donations in Larry's name to the Challenged Athlete Foundation (challengedathletes.org) or the Utah Food Bank.