In Memory
Jimmy Strong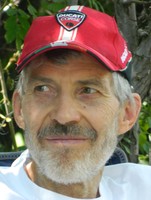 Jimmy Doyle Strong, 69, passed away January 4th after a long and hard fought battle with cancer. He was born April 12th, 1943 in Ogden, Utah, the son of Doyle Strong and Ardus McEwan. He is survived by his daughter Adaline Strong, son Bryan (Miyo) Strong, granddaughters Maurea and Maya Strong, sister Valerie (Jim) Pissot, brother Kenneth (Karen) Strong. He was preceded in death by his parents Doyle and Ardus, his sister Lisa Strong, and his grandson Bennett Strong.
He had a loving, humble spirit, though immensely strong and full of courage. The experiences in his life taught him many things, which he instilled upon everyone who came to know him. For instance, after years of racing motorcycles: the conviction to face your fears, stand up for yourself, and if you fall, to always get back up on your bike. From decades of backpacking: to appreciate all things and gestures from the sun on your face, to a good hug just because, and to have the fortitude to keep going, no matter what struggles you face, because in the end, the trail and the destination always are worth it. He was a man who not only loved his cats, but all creatures, ketchup, bluegrass music, twisty roads, and all the sweat, dirt and rocks it took to create an imaginative and beautiful garden. But most of all, he loved
his family and friends. He always felt they were not only the best part of his life, but the reason life was worth living.
There will be an open house at Jeremiah's Restaurant, 1307 W. 12th Street, Ogden, 84404, on Saturday, January 12, between 2-4 pm for friends and family to come together to celebrate Jimmy's life. Time is set aside at 3 pm for those who would like to share their thoughts and memories of Jimmy.
There will be a graveside service for family and close friends in Salt Lake at 10am on Saturday. Contact family or send email to jimmydstrong@gmail.com for details.
In lieu of flowers, donations can be made to Wildlife Rehabilitation Center of Northern Utah, 801-814-7888. Online condolences www.memorialutah.com.