In Memory
Helen Talbot (Harsin)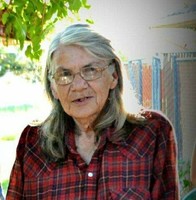 Helen Talbot
21 Apr 1943 - 04 Dec 2017
Helen (Cookie) Christine Talbot Harsin
April 21, 1943 ~ December 04, 2017
Our loving mother, grandmother, great-grandmother, great-great-grandmother, sister, aunt and friend passed away surrounded by loving family on December 4, 2017 to make her journey home to take her place beside her husband of forty years. She was seventy-four years of age.
Cookie was born in Eureka, CA on April 21, 1943 to Wm. B. Talbot and Theresa Rose Talbot. She grew up in Ogden, UT, graduating from Ogden High School. In her early adult years, she was employed as a seamstress, working for various manufacturing companies in the Ogden area. Later in life she was a very dedicated homemaker, who also contributed to the household by raising and selling livestock and had the ability to create anything with a sewing machine.
She married Charles (Chuck) A. Harsin on May 27, 1976. They were blessed with a son Charles (Chuck Jr) S. Harsin.
Cookie loved to travel and go camping in their motor home. She loved and cared for all animals, especially horses, goats and dogs. She was a very loving and kind person who would never give up on anything. She was an amazing woman who brought smiles to anyone blessed enough to know her and would go without if she thought someone else would benefit.
Cookie is survived by her son Chuck S. Harsin (Kori); step-daughters: Debra (Ralph) Harline, Lynn (Robert) Quick, and Bobbie Jean (Ted deceased) Giguere. She is also survived by a sister, Donna Thurgood (Ben deceased); a brother, M.J. Talbot (Janet); a brother-in-law, Cecil (Linda) Harsin; a sister-in-law, Marjorie (Herb deceased); and many nieces, nephews, grand-children, great- grandchildren and great-great grandchildren.
She was preceded in death by her husband, Chuck A. Harsin; brothers-in-law: Ben Thurgood, Calvin Harsin, Herb Worl, sister-in-law, Karen Harsin and a nephew, Scott W. Smith.
A special thanks to Kori Reynolds and Amanda L. Harsin and the staff at PeachTree Care Center and Bristol Hospice.
Funeral services will be held at Aaron's Mortuary, 496 24th Street Ogden, UT on Monday, December 11, 2017 at 11 am with a viewing prior to the service from 9:30 to 10:30 am at the mortuary.
She will be laid to rest at the West Haven Cemetery at 1500 South 2350 West,. West Haven, UT following the services.