In Memory
David Wiegand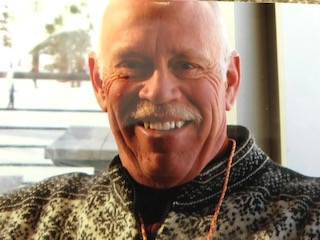 David Wiegang
03 Aug 1943 - 25 Oct 2017
Dave was born as David Roy Wiegand to Roy & Helen Wiegand on August 3, 1943 in Sioux Falls, South Dakota. He lived there for 4 years and then moved to Bismarck, North Dakota where he learned to love the snow & the great outdoors. He grew up the son of a Baptist minister and a loving mother who enjoyed gardening. From his parents he inherited his love of nature, respect for all living things and humble demeanor. He earned his Eagle Scout award & from then on camping, hiking, snow skiing, water skiing, biking, golfing and cross country running were his life. He graduated from Ogden High School in Utah in 1961. He attended college at the University of Idaho where he majored in Forestry and Forest Business. He was also in the National Guard. He married Sheila Francis Kelly on November 7th 1970. They had one daughter, Keri Anne Wiegand Smith, born February 15th 1974.He loved his family, nature, skiing and testing the limits of his physical body, whether it was downhill skiing, marathon running, biking in the Lotoja 200 mile bike ride multiple years in a row, barefoot water skiing, scuba diving or hiking. He was fearless.
He worked in Building product sales and had a real estate company, Wiegand and Company. He was lucky to retire early, in his late 50's and he spent the next nearly twenty years doing what he loved, skiing. He was on the volunteer ski patrol and an instructor at Alta. He joked that people that took lessons from him and couldn't remember his name referred to him as 'the old guy with the really white teeth.' When he was in his mid-sixties he went up to Alta in the summer and hiked up and skied down Gunsight on only the thinnest strip of snow. There were a group of younger guys there watching and when he got down they asked if they could use the picture they took of him for an outdoor extreme sports magazine they were producing. He said yes and when they mailed him a copy he was happily surprised to find himself on the cover.
David had many good friends, too many to list. He enjoyed hiking nearly every summer in the Tetons with Bruce Leiding. He also was lifelong friends and weekly movie buddies with Dennis Carlson.
He leaves behind his wife, Sheila of nearly 48 years, one daughter, Keri (Jason) Smith who inherited his love of the mountains, two granddaughters, Emily (16), Katelyn (13) that both inherited his fearless nature. One sister, Shirley Post (Richard) and their three children: Kyle (Cherianne) and their two children, Lori Davis (Chad) and their three sons, and Erin Vandermay (Daniel, DVM) their two children.
He was a kind and caring person and he will be dearly missed. Riding up the chairlift at Alta as he looked around, he proclaimed that it was his idea of heaven. A celebration of his life will take place on his birthday, August 3rd, 2018 at Skiers Rock at Alta. He would have been 75.
The family wishes to thank Kevin Ann Miller, Alta View Hospital Emergency Room, Intermountain Hospice, Monsignor Terry Moore and Deacon Dale Dillon, and especially Michael David Jones, M.D. and staff for their exceptional loving care, as well as many family and friends both in Danville, CA and in Utah, especially Sarah Belzer, for all the love and support.
What a day, a year, a life it is...'Dreamer' by Supertramp