In Memory
Tom Lakey
Thomas Dean Lakey
1943 ~ 2015
Thomas Dean Lakey, 72, passed away Sunday, March 8, 2015 at the Utah Valley Regional Medical Center after several months of declining health. Tom was born on January 9, 1943 in Ogden, Utah a son of Dewey and Dessie Shope Lakey.
Tom lived in Colorado, California, Arizona, and Utah. He graduated from Ogden High School and attended Weber State College. He married Dixie Williams in 1965. Dixie passed away in 1977. Tom and Virginia (Ginny) Kloezeman married in 1981.
He and Ginny loved being parents and grandparents. Their grandchildren are their pride and joy. Maisy, Jacob, Addi, Jaide, Julie, Janie, Jacob, Joey, Alex, Taya, Rory, Kaleb, Thomas, William, Jonathan, Dixie, Orion, Robyn, Isha, Hayden, Max, Natalie, Angel, Aundrea, Ava, Aleah, Alex, Ammon, Adalyn, Benny, Violet, Hazel, Tessa, Katelyn, Stephanie, Kristina and great-grandchildren Chelsyee and Brooke will miss Grandpa dearly.
Tom had a great capacity to love and he loved unconditionally. He touched the lives of many. He found great joy in serving those who were in need. He spent many Christmases providing for others anonymously. Tom also gave many years of service in the Church of Jesus Christ of Latter-day Saints. His children and grandchildren learned to serve others from his example.
Tom is survived by his wife Ginny; children Tom (Holly) Lakey, Todd (Stacey) Lakey, Kevin Lakey, Eve Lakey, Julie Lakey, Debi (Mark) Lakey Abbott, Jeremy (Yuliya) Lakey, Ben (Christina) Lakey, Rachel (John) Nelson, Tammy (Ryan) Lakey Blankenship, Dave Hemmert, Jim (Kaytlin) Hemmert, John Hemmert, Becky (Joey) Hemmert Kendall, and Cherish Weinstock; his grandchildren; two brothers, Bill (Ruth) Lakey and Joe (Marge) Lakey; two sisters, Mary (Glen) Fletcher and Fran Richards; and so many others that he invited into his family and his home. He was preceded in death by his wife Dixie, son Kelley Lakey, granddaughter Eva Khali Che Pace, sister Betty Bauman, brother Jim Lakey, and his parents and grandparents.
Funeral services will be held on Saturday, March 14th at 11am at the LDS church building at 1260 West 1150 North in Provo, Utah. There will be a viewing before the funeral from 9:30-10:30 on Saturday morning. There will also be a viewing at Walker Sanderson Funeral Home at 85 East 300 South in Provo on Friday evening from 6-8pm. We invite all family and friends to attend.
A brief graveside service will be held at 3:30 p.m. on Saturday, March 14, 2015 at the Plain City Cemetery, 1975 North 4425 West.
The family requests that in lieu of flowers, memorial donations be made to the Primary Children's Hospital Foundation to be used to help children and families receiving care at Primary Children's Hospital.
Primary Children's Hospital Foundation
P.O. Box 58249
Salt Lake City, Utah 84158-0249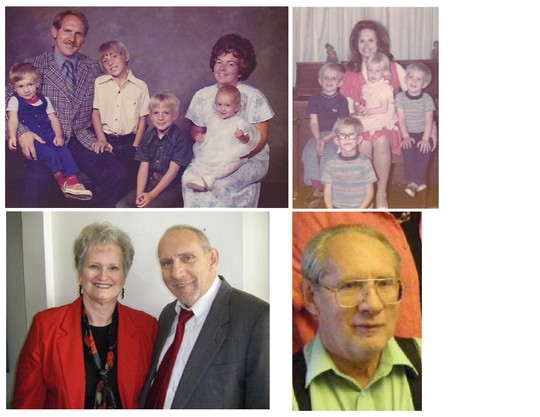 TOP RIGHT: Tom and Dixie with kids; Tom, Kevin, Todd and Julie
TOP LEFT: Ginny with kids; Dave Jim John and Becky
BOTTOM LEFT: Ginny and Tom BOTTOM RIGHT: Fairly recent picture of Tom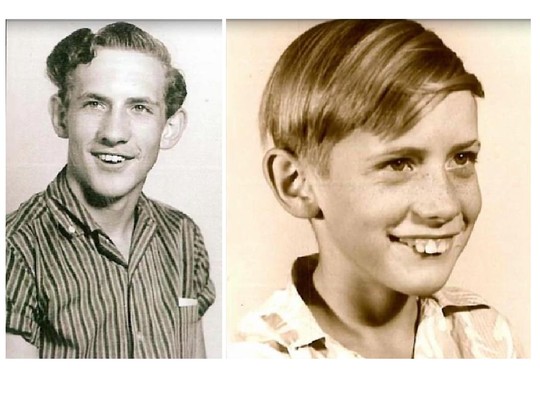 Here is how most of us remember Tom Lakey (probably Jr. High and Elementary photos).